Working on an idea for a Island for the kitchen. The top will be a laminated wood, natural finish. I am leaning towards maple but who knows what my darling will want.
The top is long to allow space for eating off a couple of stools. We currently have a table there that is a bit to big.
Open space is for some baskets for storing potatoes and onions. Waiting on her for the final design for that.
Color? Who knows. I just picked something I liked.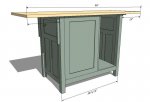 Jeff