While helping Marilyn clean up Carols shop and getting things ready for a garage sale all proceeds for Carols Charity, I came across a coupla Items I couldn't let her sell at a garage sale. So I simply gave her a small donation for Carols Charity and brought them home.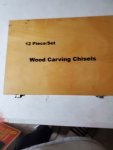 Brand News still have the protective coating on the sharp parts...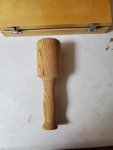 And bonker that is hand turned.
Now I have never done any wood carving but I used to do leather work so I can see some similarities. I think Carols trying to tell me that I can still do some woodwork even with my allergies to some say dust....