Administrator
Staff member
Check it out, This is the new practice space for my band. My guitar player put up one of these steel buildings (I helped, well, A bunch of people helped).
We've got the 'mezzanine' up with the spiral staircase. I worked up the balusters for the railing today. You can see a few laying up on that ladder there.
Eventually we'll put some eggcrate type foam up over the actual practice area.
The space is 30' x 12', so should be a nice amount of space.
I have a feeling its going to sound like playing inside of a huge amplifier, lol.
Still, Will be a lot more space than we have now.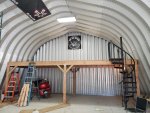 New