Administrator
Staff member
Last Christmas LOML gave me a Lodge cast iron cornbread pan...the kind that makes corn-shaped sticks of cornbread. My dad had a couple of pans just like it, and LOML always loved having his cornbread sticks. Unbeknownst to LOML, I remember as a kid how long it took my dad to get his pans seasoned to the point where the cornbread would actually come out of the pan in one piece. (I'm talking years, here.) He had more epic failures with those pans than I could count. And he was an old hand at seasoning cast iron.
I, on the other hand, have never owned any cast iron cookware until last year when I bought a couple of cast iron skillets for searing my sous vide steaks. Those pans were purchased pre-seasoned, and they worked reasonably well. I did some Internet research and set about to seasoning my new cornbread pan. Over the past month or more, it has been through at least 4 cycles of getting oiled with canola oil and baked for an hour or two at 350º to 400º. (I did the baking in my gas Weber grill outside so as to avoid smelling up the house with smoky oil.) After these repeated cycles, the new pan had the rich, shiny black surface of a well-seasoned cast iron pan.
Today I made a pot of Texas-style chili and beans, and decided this would be a great chance to try the new cornbread pan. I had high expectations for the cornbread sticks...I wanted LOML to be impressed with my kitchen prowess (she doesn't cook at all), and I wanted to show her I was savvy enough to master this fancy cornbread pan right out of the gate.
The chili came out great. I used pre-packaged seasoning and canned pinto and kidney beans (so nothing fancy there), but cut up a couple of T-bone steaks for the beef, as they were on sale for more than a dollar less than ground beef, stew meat, or cheap round steak.
The cornbread was also out of a box...just a honey cornbread we've had before that I knew LOML loves. But that's where the good part of the story ends. I figured I'd share a photo I took of the cornbread sticks to send to my sister. LOML and I were both in tears from laughing so hard when I typed out the text message. In the message, I said:
Made cornbread in the new cornbread pan Kian gave me for Christmas. Came out just like Benny's used to!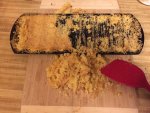 Somewhere, my dad is laughing his butt off right about now.