Not sure if this should be under "shops" or under jigs and "fixtures"
.
OK, get the OCD jokes ready. You won't bring me down because I am just crushing my to-do list.
I have a 24" deep cabinet. As many of us know anything over 18" leads to the Twilight Zone where things vanish into another dimension
. At any rate I have had a wide assortment of odds and end in various boxes and bags floating around in there. I took some more of that famous junk-wood that LOML brings me home from her work . . . Dumpster diving by remote control; not bad eh? Slapped this thing together with glue and brads.
I'm still migrating stuff into these plastic shoe boxes (a dozen for $14 at the BORG) from oddball bags or just rolling around loose but, I wanted to stop to take a couple pics and share. Boxes that stack are good. Boxes on shelves are better
Total cost - 90 minutes of my time and a couple dozen staples. And, I recovered 6 square feet of shelf space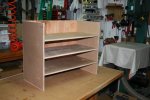 .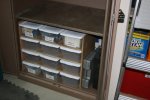 Last edited: