Administrator
Staff member
Projects beget projects. As part of my guitar project, I need to use my cnc to help me build some jigs. Unfortunately my old OX was a little small for the task.
On the upside, I did get the OX running, so theres that. Still on the upper part of the upside, I've got the CNC That Carol Started and Don got built and running.
I figured if I was going to use it, it was a good time to redo things a bit to meet my needs. What I'm going to do differently is:
Convert it to a grbl controller.
Mach 3 is fine, but I've never used it and just dont feel like learning another system.
I also don't want to have to have a pc directly connected to the machine to run it. I've got a bunch of pc's laying around and one less machine to take care of is a bonus.
Adding a raspberry pi to the mix
This will let me us CNCJS to run it. I can control it and run it directly from a tablet, use my phone as a pendant for jogging, etc.
Will allow me to add a web cam for timelapse recording and monitoring.
Reconfigure the base
My shop is small and Anytime I can add shelves or storage to project I'm all in for it.
Enclose the electronics
My shop can get pretty dusty at times, so I'm going to enclose the electronics and use filtered positive pressure ventilation to keep the insides dust free.
Add some 3d printed doodads here and there, lol.
So first step is to get a handle on what the wiring does.
This is probably a work in progress, and it's messy, but It helps me understand all the components I need to account for. This in no way reflects how things will be layed out physically. Just kind of figuring out what I need and where they connect.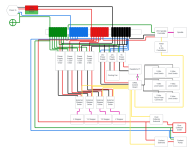 What I'm planning on doing for the cabinet.
I'm going to build an electronics enclosure with positive pressure ventilation for dust control and recess it slightly.
Drawers for storage of all items. Thats just a rough drawing, I'll probably have some narrower drawers on top and deeper ones on the bottom.
On the right side at the back will be a cubby for material storage.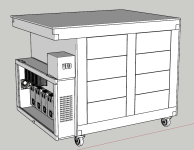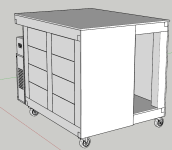 As part of the prep I went and looked for all the Carol and Don CNC Threads I could find. Let me know if I missed anything.
Carols Threads
Dons Threads