Administrator
Staff member
Well, a buddy who dj's with 45's asked if I could make him some record crates.
Sure thing, the only issue is that if I prebuild them, they are pretty good sized, and are expensive to ship. So I redesigned the crates to a knock down design that uses 10-24 machine screws and cross dowel bolts to hold them together.
It was a first for me as I designed it in sketchup, then imported the vectors into Vcarve to design and cut the pieces.
I also discovered that using a 1/8" up/down cut bit really helped reduce the amount of chipout on the crappy Borg ply I'm using. Yes, I could make these out of better wood, but the crappy ply is part of the charm, lol.
Had to make a number of prototypes to get the fit just right. These slide together easily, with enough friction to make them snug. I leave the tabs a little proud so I a quick sanding should make everything look nice.
So now I can make the boxes and hopefully just slip them in a flat rate box and send them off.
Now I need to work on the crate design for the LP's
Here's the design in sketchup.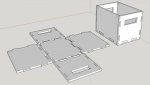 I simplified the SU files and then imported them into vcarve.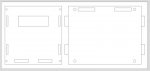 The final prototype/ first production box.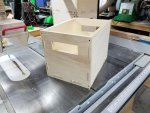 Of course part of the project is to laser a logo on the from of the box.