(Part 1 of 6)
Aside: I started a similar thread to this on SMC but was not able to complete it there. So, for folks who have seen some of this before, I apologize.
Background
:
When I built my shop a couple of years ago, I had to tear down some of the old deck to make room for the shop. Here are some photos taken in March 2004 just before I started work on shop.
• The deck –photo taken from the north: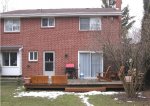 • The deck –photo taken from the east:
• The outline of the about to be built shop mapped upon the ground and the deck: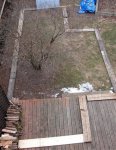 I built the deck in 1975 and the surface is western red cedar 2x6s nailed onto the joints with three 3 inch galvanized spiral nails at each intersection. Thus, the boards are not easy to remove without damaging them in some way. At the time the shop was built, the deck was in serious need of maintenance. It had last been stained in 1995 and suffered from neglect and even misuse while we lived in Seattle from 1997 to 2003. But in 2004, the shop construction project took priority, so the deck has now been neglected and misused for 11 years. However I am happy to report that, in spite of that, the majority of the 31 year old decking boards are sound. And, the underlying support joists and beams are all in good shape.
The project consists first of sanding, and where necessary filling, then staining the remaining original decking. Then I am going to extend the deck with a semi-circular perimeter to the north and east. New wood will be used for the extension.
I keep a weekly journal with, among other things, notes and pictures about my woodworking projects. The material that follows is extracted from that journal.
Sept 24 journal entry
:
I am back in Toronto for a two week period and decided to make a start at restoring our deck. I expect that I will not get the project completed before winter sets in, but just maybe, with the incentive provided by having to report on progress here plus the very active "encouragement" of Margaret
(my wife),
it might get done before the snow flies. Here are some pictures taken just as work is getting underway earlier this week: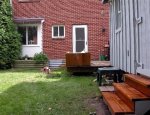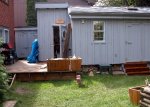 The first picture is taken from the north and the second from the east. By the way, last weekend I built the steps that are shown to the right of both pictures; the wood on the steps themselves and on the risers is restored cedar.
The perimeter of the extension is roughly shown by the yellow line in repeated picture below: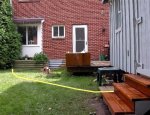 Here is the rough plan for the extension: