Administrator
Staff member
It is amazing how long I've put up with the noise my drill press makes. I've had a few times over the years that I've draped a drop cloth or some welding gloves over the top to dampen the vibration sound the cover makes while working on a lot of drilling.
I finally had enough and ordered some
dampening mat
, usually used for cutting out road noise in cars.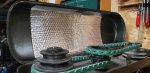 It really is the simple things that helps us keep our sanity.