Administrator
Staff member
I've been working on our ponds to try and get the algae and duck weed under control. I've found that copper sulfate works well for the algae and a granular Cutrine plus product for the duck week. However, the bottom of the pond is covered in Muck (leaves, sticks, dead stuff, poo, etc.). You can see a few spots here where the fish have cleared for eggs, but there's about 2" - 4" of muck covering the bottom of the pond.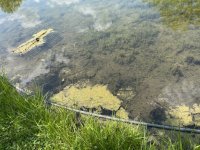 I've ordered some of the
bacteria/enzyme blocks
that you drop in to work on it. They are suppose to cover up to 5 acres, combined all 3 of the ponds are only about an acre, so I'll be breaking one up to share between them. Hopefully we'll see some improvement in the next few weeks. The reviews seemed promising for it.
I also have about a mile of that black plastic pipe laying around or buried here and there that grandpa used to use for irrigation and such I need to get rolled up and stashed somewhere.