Administrator
Staff member
My wife saw this (the top piece in the pic) at the craft store the other day and was considering getting it, but they were asking $90 for it.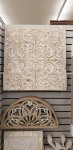 She talked herself out of it, then got home and found a coupon for 40% off, so went back the next day to get it. Lucky for me, it was already gone, so I offered to try and make one on the cnc, I went out and found a few panel designs and she picked one out of a batch of them.
I had started it a few days back and found the ply I was using had some bad glue or voids that were causing some of the top layers of the ply to chip away on smaller details. So I stopped the job and decided I'd try some other plywood, but after remembering that it was going to be painted and I had some detail passes yet to make, I let the machine resume hogging out the larger parts. I then filled in the missing areas with wood filler, a few times to build them up.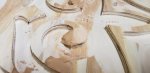 After it dried I started the detail passes and let the machine clean up and re-shape the missing parts.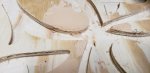 I still have some sanding and a few small areas that need filled, but hopefully will be able to start the white wash process this week.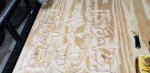 The finished size will be 30" x 30". She's already picked out a couple more she wants done for another wall and room.