Sequels are seldom as good as the originals, when talking movies, I can think of very few that the sequel was better, a quick "off the top of my head list"...... Mad Max or Road Warrior Most of us saw Road Warrior first, and then heard about and eventually saw Mad Max, thus this is a bit of a hard one, as Road Warrior was the Sequel, but we saw it first.
Godfather or Godfather Part II I like Part II better, it really did embellish and fill out the that whole world. Terminator or Terminator 2 Two was better, Arnie learned how to act...... a little
Alien or Aliens For me, the BEST sequel ever! Alien was more of a horror movie set in space, Aliens was more of a rock and roll roller coaster ride with big guns, bad jokes, and bug hunts!
I do have to say that the Aparto Part II will be a hard sell to top the original, for one, we know what to expect now, the North Side Neighbor has been put in his place, so the drama of it all will just simply not be there, sorry sports fans
I've also got help this time around, my buddy Jake is going to help out, he is a pro carpenter, who has specialized in renovating old building, warehouses in Vancouver. Jake knows his stuff. He will be helping out, and as you know, a second pair of hands can really move things along. He is only going to be here for another month, so I hope to get all of the Demo work and any structural work done before he leaves. He will be working for rent, he is renting the upstairs apartment from us. Today I went over to have another look at things, Jake heard me bumping around downstairs and came down, we got to talking about how to renovate this one, what stays and what goes etc. While standing around noodling it, we were wondering if a certain post was structural or not......
after a minute or two of that, I said "Well, I have a large crowbar and sledgehammer here, lets find out.........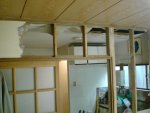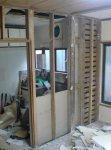 ......... yep, that one is structural
I'll get a floor plan and some more pics tomorrow, but it has begun, like I said, I very much doubt (and hope) that it will be near as interesting a read, I hope to NOT break any bones this time and I have a definite deadline of September first, as I have it rented already
Stay tuned, LOTS more to come! Cheers! Stu
Last edited: