Last summer I spotted this back saw at my FIL's home. I asked him wether he used it and he told me that he had cut many drywall panels with it when he was still active but not any more.
I hate seeing tools being abused and my FIL is specialist on that. The brand of the saw is a good brand and the blade must be good. He removed the rib to be able to cut the panels and from what I can presume he removed it from the very beginning.
Now the saw was picking rust and dust on his cellar and I felt sorry for it so I took it home.
As you can see it was rusty, there was one bolt of the handle missing and the handle had cement stuck to it.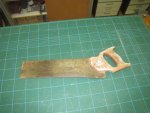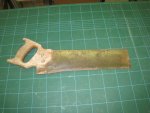 So I dissasembled it and put the blade into a citric acid to remove the rust. It worked very well but some areas have pitting which I cannot do much about it.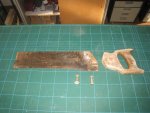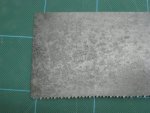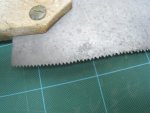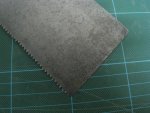 I sharpened the teeth and mounted it back to check it. It cuts but the teeth need resetting, and I have to find the setting tool I had that I put in a plce that I don't remember.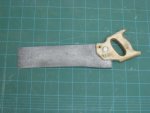 I keep on hesitating wether is it worth going through all this, because I already have saws and I doubt I will be able to make a proper rib for it. Then the handle is also in bad state and either I sand it or I make a new one. Some times it is discouraging and some others is challenging.
Anyway, I thought I could post it, any hint suggestion or whatever will be appreciated.