In my ongoing attempt to keep my sanity I am making odds and ends that will hopefully become useful once the new shop appears. I adopted the 'cleat wall' philosophy long ago. It has paid dividends over and over throughout the years. The new shop will have a few cleat wall areas. One is planned for the tablesaw / router table area.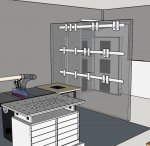 Don't let the semi-transparent walls bother you. This just makes it easier for me to keep track of where I am when I am working on the drawing. The area you see through the wall is a planned finishing area.
I used to keep my sleds on the ground leaning against the cyclone. Other jigs were in a jumble on an elevated platform to keep them off the concrete. Still others hung on 1/2" pegs here and there. I plan to enlarge or add 1" holes to a lot of the jigs I use regularly. They will then hang from 1 or 2 of the 3/4" red oak pegs on this wall.
Both ends of the cleat will be open so they can be slipped on and off as required (they are not removable except by sliding them off the ends of the cleat). My diligent and carefully controlled laboratory testing environment has revealed that they slide easily into any position along the cleat when unloaded.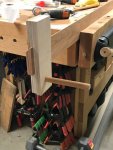 .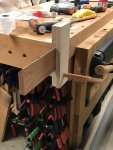 This one is version 2. I managed to stumble through it with small power and hand tools. I ran out of scrap ply and had to use a scrap of BB ply that had been setting on the back patio for about a year; it survived admirably. I will do a production run once I have a tablesaw again. A couple of dozen should be more than I will ever use.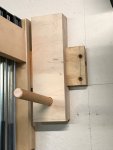 .