A neighbor has a door that is pretty long in the tooth. IT is odd sized for reasons I do not know. The replacement cost was ridiculous. I am trying to buy him a few more years out of it.
There is some physical damage due to the door remaining in service once the finish had failed. I am not trying for "new", just hoping for acceptable.
Mostly done with finish here.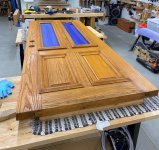 Tomorrow I will check it out and proceed as I will.