Administrator
Staff member
Figured we have a shop tour thread, might as well have a grill tour thread too.
Mine is a Louisiana Grill - Country Smoker 450 pellet grill/smoker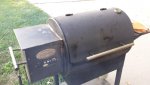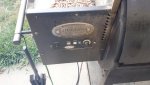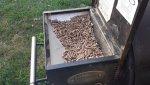 I had a friend that was selling them, this one retailed for $850, but did some bartering as an even trade for building and maintaining his website.
It's an analog controller and will go from 0* to 700* in about 15 minutes. Once I shut off the switch, it stays running for about 15 minutes. During that time the auger shuts down and the fan continues to run and burn up what pellets are left in the fire pot. At the end of a long smoke (12 hours or more) I typically only have about a handful of ashes in the bottom of the fire box.
Salmon was what was for dinner tonight, marinaded, then cooked at 250 for 20 minutes. Don't remember what the season/marinade packet was, but was for chicken or fish. Had a mix of cherry and apple pellets in the hopper, I usually use pecan or alder, but didn't have any on hand.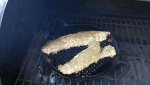 I've got some upcoming updates to add a digital PID control to more closely maintain the temps. Also plan to add some data logging features to capture some of my cook statistics.