The plan is for a couple of hinge-lid boxes. I don't have any decent resaw capability right now so I am using pieces out of the shorts bin. I should have started taking pictures sooner. It was when I reached for my shop-made stops that I thought to start.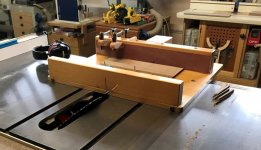 You guys have seen these before. They do this: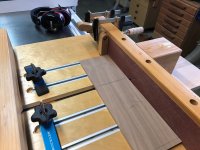 And this: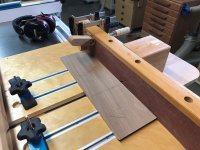 A series of miter cuts gets me two continous grain sets of box parts.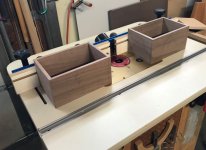 I use a 50T blade with a flush FTG raker to cut 1/8" x 1/8" grooves for the top, bottom, and some "rails" that will support an insert tray.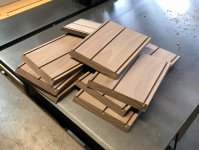 Again, limited by resaw capability I am glad I hung on to so many scraps leftover from resawing years ago.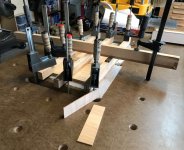 I am veneering resaw scraps of oak to either side of a plywood substrate. Once the joinery is done only the oak should show so I don't need any trim for the edges.
The tops will be cut from a piece of poplar that I router-carved.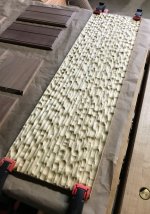 I have used this same technique on cremation urns in the past. I stole the idea from whoever it was that made a bypass door cabinet using this technique on the door panels that I saw online years ago.
Hmm, I can't believe I didn't post a thread about these urns??? Maybe my Google-Fu is failing me? I'll just stick a picture in here for reference.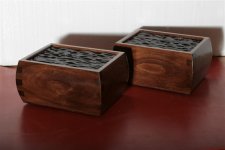 Last edited: