Administrator
Staff member
Took my 4Runner through the car wash today. Almost made it home before it started raining on me.
Disclaimer: I knew full well it was going to rain on me, but I have a monthly "Exterior Only" membership to Mister Car Wash, so it costs me nothing to run it through other than about 5 minutes to dry it off afterward in the vacant lot next door. I just wanted to clean off the dust spots that happened a couple of days ago after the last time it rained here. Also wanted to take this pic for any Breaking Bad fans here, since I think it's pretty cool that I wash my vehicle at Walter White's car wash.
Pardon the optical distortion from my phone's wide angle lens.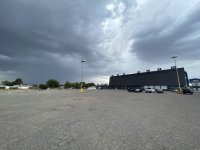 And it did indeed rain on me before I got home. I told my wife I would have gotten home before the rain if I hadn't stopped to wash my car. She didn't really see the humor in that...but then again I have to explain most Far Side cartoons to her, too.