Another platter from my stash of blanks that have lain ignored in the shop for the last 10 years or so. For a while I turned a lot of platters and accumulated a lot of blanks then I moved onto other things. Under the dust and grime I found this 18" by 1 3/4" platter. I learned to turn the multi-axis base from Frank Penta when I took his class on embellishing platters. It has been a while since I had a piece of wood this large swinging off-axis Gotta love how well sapele cuts and finishes.
Here are top and bottom views.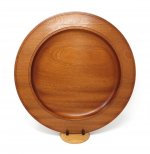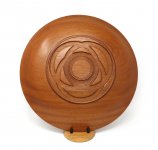 A detailed view of the multi-axis base. It is always fun to see the reaction of someone when they turn the platter over and see the base. Almost always you get a "How did you do that?"