Well finally time to post about the "next" workbench. I call it the "next" workbench because it's better than what I had but not as nice as I will probably build one day.
Using ShopNotes Vol. 15 Issue 89 as a guide I went with layered MDF for the top. I laid waxed paper on my TS deck (as it is the flattest thing in my shop) and went at it:
First two layers are full size; dry fit here with screws to allow flush routing: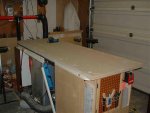 First two glued up (I used whatever was at hand for weights):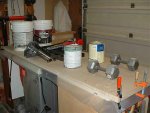 Second two layers are in parts to save material. This approach turned out to be useless for me as I decided on multiple rows of dog holes and had to increase the size of the "parts" to where four full size layers would have been less work: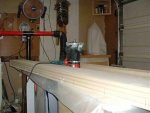 After deciding on the vise positions and drilling the mounting holes I flipped it onto a temporary platform to add the trim. Here's the old extend-o pipe clamp trick: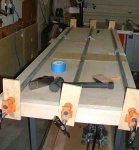 Can you ever have enough clamps?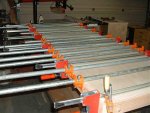 I clamped some scrap to the frame pieces for router support. After free-handing the original pocket to a depth of 1/4" I used a dado clean out bit to finish to required depth.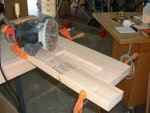 Here's a shot of one of the vises mounted and in the pocket. The last piece of trim is not on yet (or should I 'Norm-out' and say "removed for clarity"?).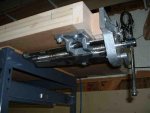 I'll post more here once the top is done. I'll post the base after construction begins.
Last edited: