So I made a good purchase from Craigslist, and I am looking to share the wealth a bit. Some of these tools I have cleaned and improved, some not.
All prices are without postage. My zip is 13346, you can estimate costs from there. Prices generally reflect condition, but I've tried to make these all a good deal for everybody.
So here we go:
Union 6" combination square. This is in really nice shape, there is a small amount of blue paint on one side of the head. The scribe was bent, I think to stay in the head better. It compares very well with my Starrett, and I'd keep it if I didn't have the Starrett. Level is perfect. $22.
Stanley 271 small router plane. This is made in England, and is in very nice condition. I did some honing on the blade, but it is not super sharp yet. Just a little more work. When the clamping screw it tightened, the blade skews just a little. I don't know if this is normal or not. The locking mechanism is nice, because my LV small router tends to twist. $25.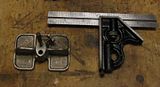 Stanley and Millers Falls 12" combination square and protractor. The protractor is MF. One level is broken on the combo head, but it has 2. The level on the protractor is fine. $15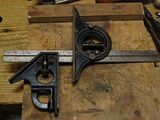 Stanley No. 7C, Type 11 jointer plane. Here are the apologies - the tote was broken and repaired, functional but ugly. Look at the pictures. The blade is pretty short, and is a Millers Falls. There is a lot of surface rust, which I have not cleaned. The lateral lever is bent, probably by the same fall that broke the tote. The blade will need to be replaced before long, depending on how often you hone it. Owner's initials GD stamped neatly on both sides. If your name is George Dogood, you are in luck. Priced accordingly at $45. If I cleaned it up and put it on eBay, a type 11 would likely fetch around $100.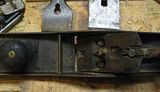 Stanley No. 4 Type 19. Apologies include a short blade, but I'll give you an extra blade - it too is short. The tote looks like it was cracked and repaired a long time ago. The knob looks like a replacement. Surface rust and crud. $10.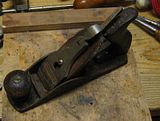 Poor man's chisel set. 1/4, 1/2, 2 - 3/4 and 1". They are Greenlee, Stanleys and Craftsman Professional respectively. They will all need flattening and honing, but for $10, you can't go wrong.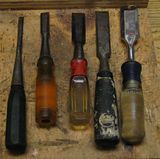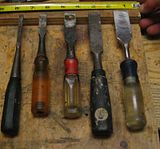 Stanley #97 marking gauge. This is a very cool tool, with a "pizza cutter" wheel on one end that actually spins when you use it, and a standard marking pin on the other end. It has fractional markings from both ends. I've thought about keeping it, but I just don't need another marking gauge. $15.

Huge reamer. What you see is what you get. $5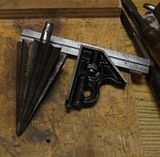 1/8" mortise chisel. The handle is pretty, but crudely fitted to the socket. I can't see a maker's mark on the chisel, but it looks good overall. $10.


8" combo square - it was broken, but ground nicely to stay useful. Free with first purchase of any other item.
My terms: cash, check or paypal. If you do pay with paypal, I consider you a friend here on the forum, and payment will be personal, so I won't get charged paypal fees. First person to say "I'll take it" gets it. Please don't ask for shipping fees. My zip is 13346, you can estimate weight. The 7 will cost around $15 in the CONUS. If I can fit stuff in a flat rate box, I will. I may have some more stuff later. If the 7 doesn't sell quickly, I'll rehab it and sell if for more.
Last edited: